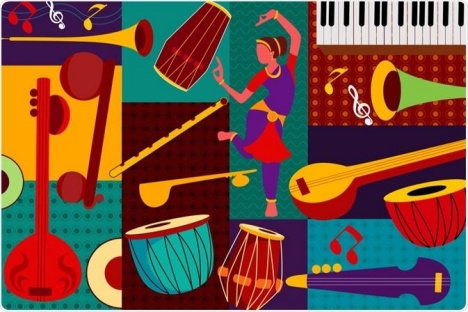 The Best Indian Classical Music lessons Near You
"Rhythm and harmony find their way into the inward places of your said," Plato had once said while indulging in a conversation about classical music. I wonder if he ever heard Indian classical music and wanted to take those lessons to mesmerise others like he was.
'There's nothing great about it, it's boring!'
If this was your immediate response then try us. You'll be going gaga about it and wanting to learn it yourself by the end of this blog.
Indian classical music is soothing, beautiful and can not be compared to anything else. You have to be a great listener to hear and feel it. If you want to have a session of profound thought, play a piece of classical music and let your mind run wild. You will be astonished at the results! Well, let me tell you a little more about why The Hobby Tribe offers one of the best Indian classical music lessons near you.
Develop patience and discipline

Classical music is unlike any other kind of music that we normally listen to. It has a certain flair for keeping you hooked on it. In fact, the more you listen to it, the more you enjoy the layers within it. So to be able to train and master it, you need to go through rigorous training which takes time. The time that it takes to learn and be good at it automatically wires you into being a more patient person. Without being persistent, there is no result.

Hence, the practice of training every single day, makes you disciplined towards this art and in life.

Acquire voice training

To be able to perform a classical music piece well, you need to learn voice modulation that becomes a part of your process. This allows you to switch between the same song and show variation, making you much more versatile with your craft. This will also help you train your voice to its complete potential.

Voice training not only helps with classical music but is also good for theatre acting and even dubbing for movies. Once you acquire voice training, it is going to benefit you all your life!

Easily learn other genres of music

Consider classical music as a base to learn different music. It is like a stepping stone into discovering different styles and forms of music. You will always have leverage when you have trained in classical music because of its universality.

When you're aware of the tempo, pitch and rhythm of what each piece pertains to, you can easily relate to songs of different genres as well.

Beginning your musical journey with classical music gives you a strong foundation so that you are not completely lost when learning any other type of music.
Classical music is soothing to the ear and has a sense of sophistication to it. Besides, it is extremely rewarding to finish your training. You will immediately feel accomplished and much more confident. So, now is the time to stop the search for Indian classical music lessons near you!
Give it a shot, try out The Hobby Tribe's classical music class and see for yourself. Sign up today!