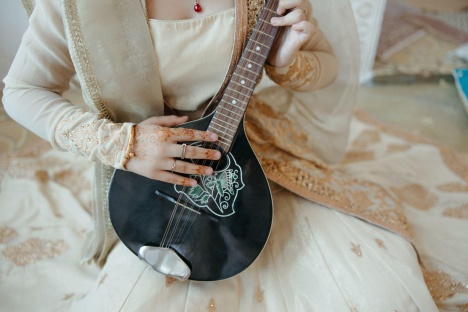 Let's answer the whys and how-tos before learning Indian classical music online!
It will not be surprising to know that in such a diverse country like India, music is also as varied as its people. You will find no two styles to be the same. Right from Bollywood dance music to the traditional folk songs, the tastes of people from across the country are poles apart.
While most may take a liking to the modern and entertaining style of music, there are a few who show interest in traditions, a few who want to explore what many don't. These are the people who wonder how to learn Indian classical music.
If you are one of them, your search ends right here! The Hobby Tribe is the hub of all e-learning courses online. We bring to you lessons that light up your mood and instructor that bring life to the most mundane topics out there. Moreover, you can learn Indian classical music online with our easy-to-access setup. Sign up today and experience it yourself!
Sure, but aren't there different types of Indian classical music?

In India, classical music is not only about music but along comes with it the traditions attached to them. This means it has to be divided geographically. The north Indian style is called the Hindustani Classical and the south Indian one is known as the Carnatic Classical. What are you learning? You are going to learn Hindustani Classical Music online!

Book yourself a free session or gift one to someone who enjoys this style of music thoroughly!

What are the things covered in the online class?

We believe that not only is it important to practice your music but also to understand the theory and the roots of the style you are practising. You will get to know all about it when you learn Indian classical music online with us!

All the courses are divided across 4 sessions and this is no different. From learning the right breathing technique, understanding rhythm, knowing about the minutest technical differences to singing a Raag with Taal, all of it will be covered in this course.

You will even learn a song based on one of the many Raags! It's perfect to get a taste of what you like and decide if you want to learn this further!

One last question before signing up, why should someone learn Indian classical music? What's the catch?

That is indeed a very important question. Let me give you 3 reasons to learn Indian Classical music online!

Improves your presence of mind

Practising and listening to the instruments involved in classical music train your mind to stay calm, focussed and take the right decision even under pressure

Improves memory

Your memory may start to a deficit as a result of growing old. If not taken care of early, it may result in complete loss of memory. Listening to classical music helps combat this problem!

Helps your cope with depression

Apart from seeking support from a therapist and your loved ones, there are certain that help you cope with your mental illnesses. Music is one way and studies suggest that classical music definitely helps!
Well, what are you waiting for? You don't need much to get started. All you need is a strong internet connection, a notebook and your enthusiasm to top it off!
Sign up now, book yourself a free class and learn Indian classical music online!