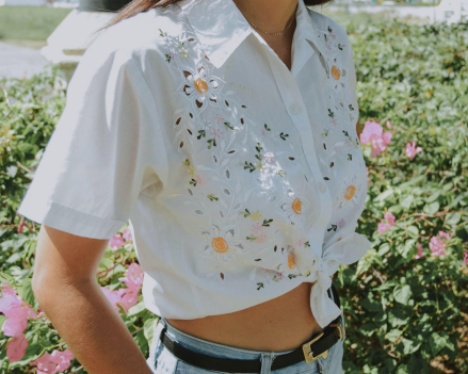 Choose the best aari work blouse design course at The Hobby Tribe
Have you ever felt like you've got magic in your fingers? Have you ever thought you could ace anything that involves the use of your fingers and arms?
Maybe… you picked up stitching and you saw how well you do it! Even if you haven't, it's time you widened your horizons and expanded your skillsets. Did you know that practising the art of stitching requires both, your brain and your fingers, to work together and helps in improving your coordination? Well, now you know!
The Hobby Tribe brings to you, online embroidery classes! A simple, effective and most importantly, an inexpensive hobby. Moreover, the benefits of learning aari work or embroidery classes online are not limited to one. It transcends to multiple areas of your life.
Stitch your own saree blouse

If you are someone who would like to design your outfits this online hobby class is the perfect place to learn it. You don't have to skim and scan through thousands of pages to find the perfect design to pass on to your designer. Learn a step by step guide to aari work design and design your own outfits!

Sign up for a free aari work blouse design class with us right away!

Take orders for aari work designs

You can now design outfits for your friends and relatives.

Can't find the perfectly designed blouse for your favourite saree? You are just one online aari work blouse design course away from learning how to stitch a unique look. Start taking orders professionally and make some bucks while you are at it, enjoying a newly learnt hobby!

Preserve vintage techniques

Although you are going to start with the easiest embroidery technique and work on a hoop, it does not end there! Our online hobby course prepares you for creating your own design and even replicating intricate patterns.

Stitch using your own vintage techniques from ancestors and create your own style!

Portable, unlike heavy sewing machines

All you need while taking the best aari work blouse design classes at The Hobby Tribe are needles, coloured threads, any piece of material or clothing an embroidery hoop and a strong internet connection.

No need to look anywhere else, sign up for our online embroidery classes right away!

Helps calm your mind

Embroidery is calming, it soothes your mind and it offers serenity. It channels your negative energy and helps you be mindful. Learning how to practice aari work does not only offer you a skill-based benefit or just monetary gains, it helps you live a sane life.

Check out our course details right away!
The Hobby Tribe is the hub of all e-learning courses. We think of hobbies as something that is adding value to your lives. It is fun, it is entertaining and it will definitely enhance the quality of your life.
It gets better when your hobbies are inexpensive, sometimes free and sometimes even rewarding.
Do what makes you happy! Book a free aari work blouse design class with us right now!